WURLITZER STYLE 146 BAND ORGAN RESTORATION PROJECT (Part 4)
by Dr. Bill Black
The restoration project began in October of 2000. This series will mostly be a presentation of the photos that were taken during the restoration process. We wonąt go into great detail in descriptions since the basic restoration process is similar to that described in the 105 restoration series.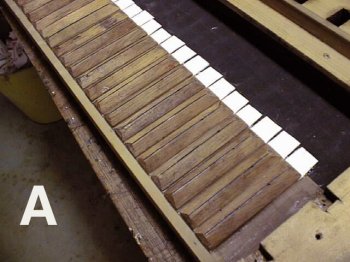 PHOTO A - The windchest is upside down on the work bench showing the new seal and the pallet valves which have been recovered with new leather and installed.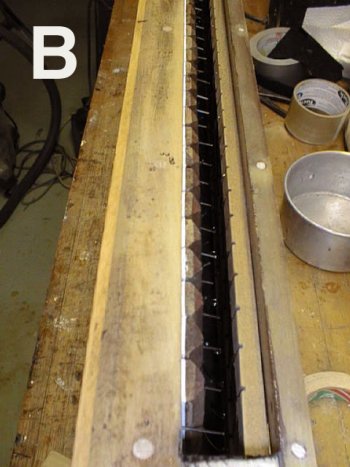 PHOTO B - A view of the windchest with the back cover not yet installed. The pallet valves and the wood strip which hold the pallet springs in place can been seen.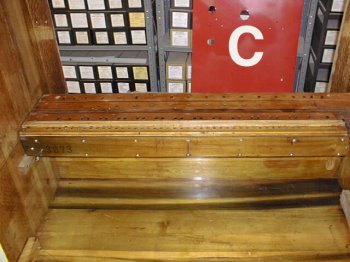 PHOTO C - The completed windchest is trial fit in the organ. The serial number has been stamped on the back cover board. Also installed is a small brass nipple on the back board which will later allow us to attach a manometer to set the wind pressure on the pressure pump.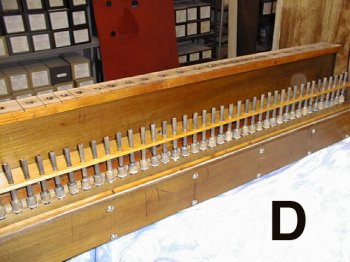 PHOTO D - The wooden push rods for the windchest pallet valves are trial fitted. The strip which holds them in place is attached with several screws. The strip is slotted for these screws. This allows a bit of adjustment sideways to permit alignment with the pneumatics on the stack. The riser board for the back rank of pipes is also installed on the windchest top.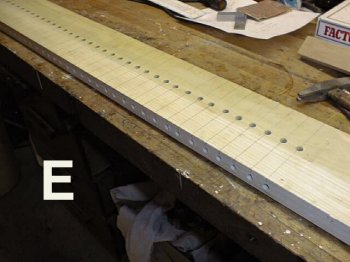 PHOTO E - The deck for the pneumatics on the stack has been rebuilt several times and the surface is in bad shape. So a new deck board was made.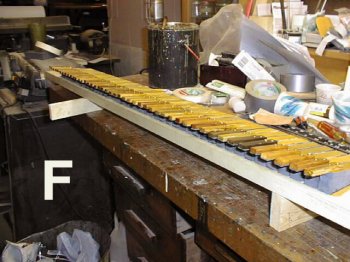 PHOTO F - The recovered stack pneumatics have been glued to the new deck.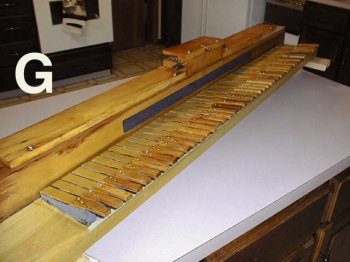 PHOTO G - The deck is attached to the mounting board for the unit valves.
PHOTO H - A front view of the completed pneumatic stack.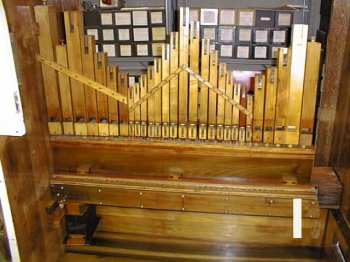 PHOTO I - The windchest is installed in the organ. Note the wind conductor which connects the wind supply from the pressure pump to the windchest on the underside of the windchest. The back rank of pipes is also installed. This pipework consists of 16 melody section violins, 9 accompaniment section flutes and 3 bass section stopped flutes. The riser board also includes a draw stop to shut off the rank. The stop is not accessible from outside the organ. You need to reach behind the left roll frame to operate it.
For more information on the Dr. Floyd L. Moreland Carousel at Casino Pier, visit: www.casinopiernj.com/index.html

Dr. Bill Black is one of the nation's most knowledgeble Wurlitzer band organ experts. He has made recordings of many band organs and other mechanical music machines which are available for purchase in our Gift Shop .