WURLITZER STYLE 146 BAND ORGAN RESTORATION PROJECT (Part 6)
by Dr. Bill Black
The restoration project began in October of 2000. This series will mostly be a presentation of the photos that were taken during the restoration process. We wonąt go into great detail in descriptions since the basic restoration process is similar to that described in the 105 restoration series.
PHOTO A - Another part of the organ which has seen several rebuilds is the transfer block. This unit serves as a switching mechanism to alternate the connection of the two tracker bars to the stack in an organ with a duplex tracker system. Each rebuild includes cleaning off the old cloth by sanding the center portion of the block. Each time, this wood part which holds the nipple connections becomes thinner. Now there is not enough thickness to stand another sanding. So, a new center wood piece was made. The photo shows the process of drilling 350 holes. The wood was mounted in a combination lathe-drill press. The other end of the wood piece is supported by a stand using a level to position the wood.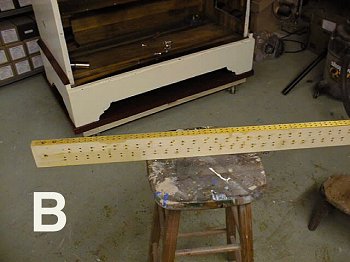 PHOTO B - The finished center piece.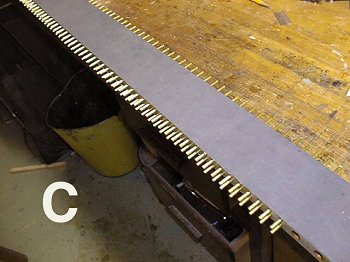 PHOTO C - New nipples have been installed in the center piece and new pneumatic cloth is applied to both sides. This is done by applying bead of glue is between each area corresponding to the well in the cover board to provide flexibility to the pouch that is created. Pouch leather can also be used for this purpose.
PHOTO D - The cover boards which are basically the same for both sides of the transfer block, receive new leather gaskets. Fortunately the two cover boards are in good shape and can be used again.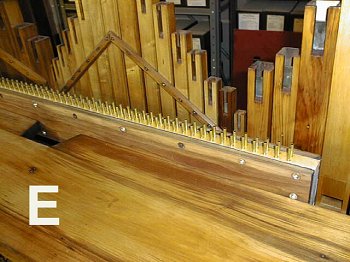 PHOTO E - The restored transfer block is mounted on the back of the shelf that will hold the roll frames.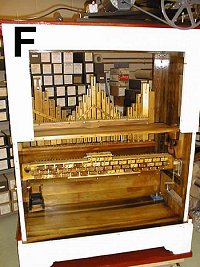 PHOTO F - A front view of the organ showing the pneumatic stack being fitted.
PHOTO G - The trumpets, trombones and stopped flute rank that plays along with the trumpet section have been installed.
For more information on the Dr. Floyd L. Moreland Carousel at Casino Pier, visit: www.casinopiernj.com/index.html

Dr. Bill Black is one of the nation's most knowledgeble Wurlitzer band organ experts. He has made recordings of many band organs and other mechanical music machines which are available for purchase in our Gift Shop .