WURLITZER CALIOLA RESTORATION (Part 1)
by Dr. Bill Black
In 1928, Wurlitzer began the production of a new organ named the CALIOLA. The machine is patterned after their usual band organ format but this machine has a single voice, 44 pipes, one pipe for each playing note.


Wurlitzer¹s catalog advertising proudly proclaims: Just the instrument enterprising amusements have been looking forward to for years, something to attract crowds, an entirely new musical instrument with a beautiful tone and remarkable volume. It plays from rolls or may be played by hand, creating beautiful musical effects. No class of amusement can afford to overlook this opportunity, as it is ideal for Circuses, Parks, Rinks, Riding devices, in fact every amusement. As an outdoor advertising feature for Truck, Show Wagon or Ballyhoo platforms, there is no other instrument comparable to this new Wurlitzer Caliola.

Ron Bopps book, THE AMERICAN CAROUSEL ORGAN, tells us that between 1928 and 1942, 77 Caliolas were produced. The first one was shipped in 1928 and the last in 1942. Q. David Bowers book, ENCYCLOPEDIA of AUTOMATIC MUSICAL INSTRUMENTS provides a production tally by year showing the majority of the machines were sold in the first two years of production. The instrument was available with or without drums and also with or without a keyboard. The most common model had wooden pipework and no keyboard or drums. A few Caliolas were produced with brass pipework, perhaps to provide some extra eye appeal from polished brass.


Its curious that at that late date of 1928 Wurlitzer would begin production of a machine designed to complete with the Tangley Calliope which had already been in production for some fourteen years. I imagine that by 1928, Wurlitzer had realized the market for band organs was coming to an end. Perhaps this was an attempt to extend the life of their production facility or maybe a plan to draw down their parts inventory as most of the machine parts in the Caliola are also common to those used in their band organs.

My machine is an example of the Caliola with wooden pipes and a keyboard. A faded serial number is stamped in typical Wurlitzer fashion on the cover of the windchest. The first 3 digits appear to read #409-, the last digit unreadable so far unless I can figure a way to bring it back enough to determine what it is. The number would suggest the production date of the machine would be early 1929.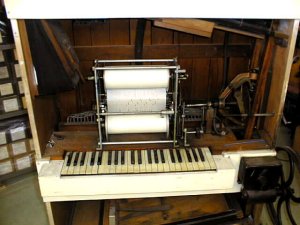 I purchased the machine some years ago. It was intact and in fair playing condition with a few notes not playing. The leather on the pumps was in good shape, apparently from some previous restoration work. The work is well done and the pumps will not have to redone.

In comparison with the Tangley, the Caliola is more suited to indoor use as it is not as loud and the wooden pipes have a pleasing tone. After a song or two on the Tangley if you are standing close to it, you will be reaching for your ear plugs. But, if you are a circus buff and you like your music loud with that unmistakable sound of the circus midway, the Tangley is the machine of choice.

In the next installment, we will disassemble the Caliola.


Dr. Bill Black is one of the nation's most knowledgeble Wurlitzer band organ experts. He has made recordings of many band organs and other mechanical music machines which are available for purchase in our Gift Shop .