DISASSEMBLY OF THE CALIOLA


by Dr. Bill Black
In 1928, Wurlitzer began the production of a new organ named the CALIOLA. The machine is patterned after their usual band organ format but this machine has a single voice, 44 pipes, one pipe for each playing note.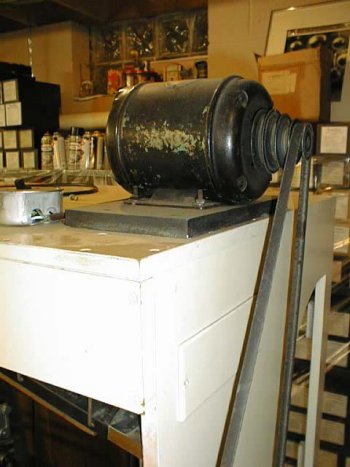 The Caliola has the motor mounted on the top of the case (PHOTO A) . The original configuration used a flat leather belt arrangement connected to a large pulley mounted on a gear box (PHOTO C). This has been replaced with a v-belt connected directly to the motor pulley without the use of a counter shaft mounted on the top of the case. The large pulley has a slight crown on it and if the motor pulley is mounted in good alignment the large pulley, the v-belt stays on the pulley during operation.



The top of the Caliola is made in two pieces. The back piece of the top is used to mount the vacuum pump. If the pump needs to be removed, this allows you to remove the pump with that piece of the top after you have disconnected the pumps sticks and hoses. No need to remove the whole top to get at the pump.



PHOTO B shows the motor, pump and both pieces of the top removed.


The top of the gear box has been removed in PHOTO D. The gear box is bolted to the back board and the gear itself is attached to the crank with socket set screws. The gear and the box slides off the shaft. It has oil for lubrication in the box so care is needed to prevent dumping the oil on the floor.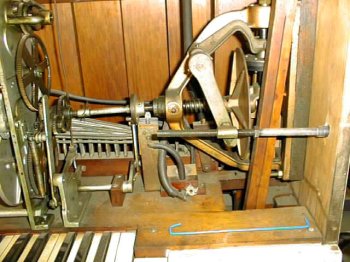 PHOTO E shows the speed control unit connected to the roll frame. Also shown in the photo is the mechanism to control the rewind pneumatic and valve. When the pneumatic collapses, it pulls an arm into position where it can engage a stud on the rotating drive shaft which depresses the arm and shifts the roll frame into the rewind mode.



There is a sleeve (PHOTO F) on the drive shaft which connects the speed control unit to the roll frame. Removal of a cotter key allows the sleeve to slide over the shaft and expose the joint to allow removal of the speed control. You also need to remove the mounting bolts which connect it to the side of the case and the wooden bearing on the vertical shaft along with the long bolt to adjust the speed.


Next month, more disassembly.


Dr. Bill Black is one of the nation's most knowledgeble Wurlitzer band organ experts. He has made recordings of many band organs and other mechanical music machines which are available for purchase in our Gift Shop .