Tobin Fraley's American Carousel™ Collection
by Dr. Floyd Moreland - Magical Carousel Shoppe


The original Tobin Fraley American Carousel™ Collection of Porcelain Miniatures was issued by Willitts Designs from 1986 through 1992. There were six editions, preceded by an "Introductory Edition" that came out seriatim each year. We carried all of them in our store and they were spectacular and elegant renditions inspired by the golden age of the carousel. The "Fraley years" also marked the zenith of interest in collecting carousel art in miniature. Subsequent Fraley designs were produced by companies such as the George Zoltan Lefton Company and by Hallmark.

From time to time we receive requests for information about the Willitts Designs pieces by Fraley, all of which are of course retired. In response to this, we thought it might be useful to put together a series of features on carouselsonline.com, which will continue for the next 12 months or so, that will provide a chronological set of photos of the various pieces that were issued, along with the number of pieces in each edition. This may be a useful reference tool for collectors who own several pieces and for those who are looking for specific pieces to round out their collections. At the very least, it will provide a context against which a collector may view the pieces he or she owns.

Each piece is distinguished by a gold coin imbedded in the base with the edition number and the total number of pieces issued.

(Occasionally Tobin Fraley pieces may be advertised for sale in The Carousel News and Trader, in the classifieds on carouselsonline.com, on e-bay, and in other publications that focus on collectibles.)

Part I - The Introductory Edition

The Introductory Edition, which was issued in 1986, was divided into six categories. It did so well that it quickly led to a string of editions in the following six years.

(1) There was a series of four small musicals inspired by carvings of the Herschell-Spillman Company, the Philadelphia Toboggan Company, William Dentzel and Charles Muller.



(2) These same four designs also appeared in a non-musical version on a polished brass base.


(3) Six pieces in slightly larger scale also were issued as non-musicals mounted on a polished brass base. These were inspired by carvings by Spillman Engineering, Charles Carmel, Charles Looff, Stein and Goldstein, and Gustav Dentzel. Included among these six was the Looff goat and the Dentzel cat - pieces that we just could not keep on the shelves for very long!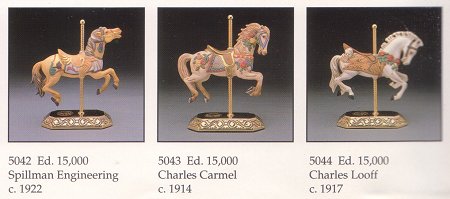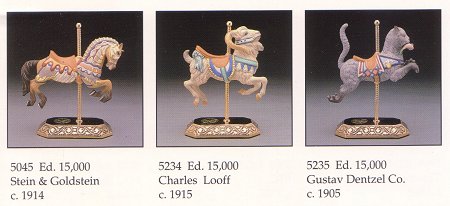 (4) The six pieces in (3) above were also issued as music boxes, mounted on a wooden base that was fitted with a section of rounding board. This design concept was popular that first year and for awhile was copied by other competing collections (e.g., issued by a company called Precious Art). It was not, however, repeated in subsequent editions.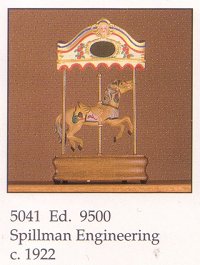 (5) Two chariot sides, a Parker with a jumper in front and a Dentzel with a lion in front were mounted on a wooden musical base.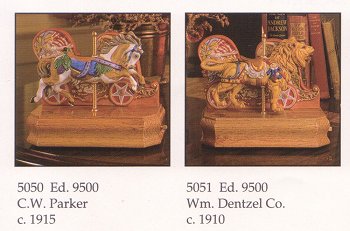 (6) The centerpiece of the Introductory Edition was a large revolving carousel musical, on wooden base.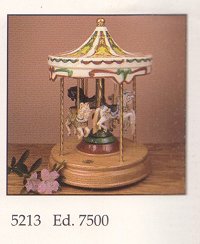 This makes for 23 pieces in the Introductory Edition of 1986, 13 of which were musical.

Next month, we'll move to the "First Edition" of 1987.

Dr. Floyd Moreland operates the Magical Carousel Shoppe AND the beautiful antique Dentzel carousel (also known as the Dr. Floyd Moreland Carousel) at Casino Pier in Seaside Heights, New Jersey. Visit his online shop at CarouselStores.com.