THE TOBIN FRALEY 1987 FIRST EDITION
by Dr. Floyd Moreland - Magical Carousel Shoppe
The original Tobin Fraley American Carousel™ Collection of Porcelain Miniatures was issued by Willitts Designs from 1986 through 1992. There were six editions, preceded by an "Introductory Edition," that came out seriatim each year. Last month, we reviewed the "Introductory Edition" of 1986, which met with such great success that it led to six more editions under the Willitts umbrella. This month, we turn to the first of these six, "The First Edition," which came out in 1987.

Several innovations appeared in the First Edition, which consisted of 29 pieces, 18 of which were musical. The edition can be broken down into seven subdivisions.

(1) A series of six animals, mounted on wooden bases, had up and down motion installed as part of the music box. These represented carvings by Looff, Carmel, Illions, and the Philadelphia Toboggan Company.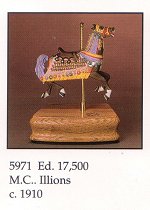 (2) Three musical pieces, inspired by Muller, Looff, and the Philadelphia Tobaggan Company, were mounted on rocking bases.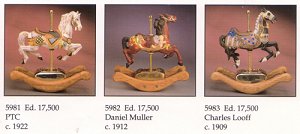 (3) Four porcelain horses, three Looffs and one Illions, were produced in larger scale, mounted on polished brass bases with four "feet".



(3) These four larger pieces also came out in musical versions, mounted on wooden bases.


(4) Additionally, the same four pieces were presented in a spectacular setting mounted in front of a musical band organ (Wurlitzer 146A, late style).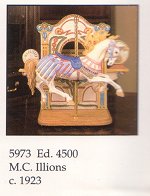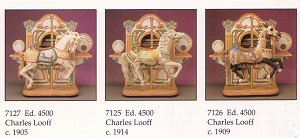 (5) A series of six mid-size porcelain pieces on brass bases (fashioned with four "feet" like the larger pieces, distinguishing them from the brass bases of the Introductory Edition of 1986) were inspired by Looff, Carmel, Illions, and the Philadelphia Tobaggan Company.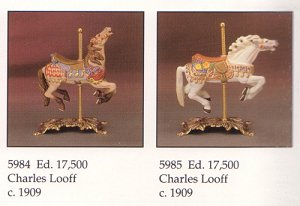 If there was a centerpiece to this collection, it would be hard to choose between (6) the full-size carousel (with animals by Looff, Muller, and PTC)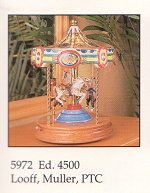 (7) the extra large wooden rendition of the Illions horse with golden mane, limited to only 2500 pieces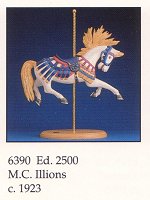 I recall vividly unpacking these miniatures in 1987 and putting them on the shelves of our store. As the shipments arrived and we opened the boxes, it seemed that each piece was more breathtaking than the previous one. The fine detail, the new types of motion (up and down and rocking), and the addition of the band organ as a backdrop were bringing to life the aura of the traditional carousel. Since all the pieces were inspired by actual original carvings from the past, the collection was emerging as a historical documentation, in miniature, of the art of the American carousel.

Next month we'll take a look at the "Second Edition" of 1988 to explore the further directions in which Fraley would take the collector of carousel art in miniature.

Dr. Floyd Moreland operates the Magical Carousel Shoppe AND the beautiful antique Dentzel carousel (also known as the Dr. Floyd Moreland Carousel) at Casino Pier in Seaside Heights, New Jersey. Visit his online shop at CarouselStores.com.