TOBIN FRALEY CAROUSEL COLLECTION - WILLITTS DESIGNS - 1988 SECOND EDITION
by Dr. Floyd Moreland - Magical Carousel Shoppe
As I've been going through all my files and catalogues while putting together this compilation about the Fraley Collection produced by Willitts Designs, I'm amazed, as I was almost 20 years ago, by the volume, the diversity, and the artistic energy of those years. Looking back at the First Edition of 1987 (reviewed in the previous article), I recall that several of the pieces were issued in beautifully designed tin boxes, further enhancing their collectible appeal.

The Second Edition consisted of 36 pieces, with several innovations. Two water globes and two tree ornaments appeared, as did figures with children and adults riding them. A rabbit, a zebra, and a frog; leather stirrups and reigns; a small child holding the brass ring in his hand -these were some of the features that extended even further what already had been a stunning representation of the world of carousel art in the Introductory and First Editions.

In the water globes, Fraley presented a Looff horse ridden by a little boy holding the brass ring and a PTC horse with a little girl holding her teddy bear.


This combination was repeated in an ornament


as well as in medium-size pieces on a brass base and on a musical wooden base with up and down motion. The medium-size pieces on brass base were joined by four others: a PTC horse with man and child riding, a PTC with woman and child, another PTC, and a Muller: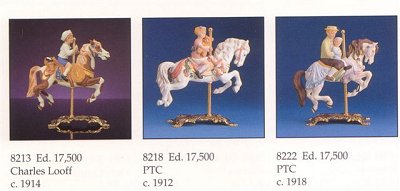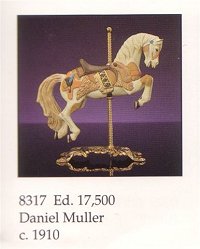 These were also issued on musical wooden bases with up and down motion: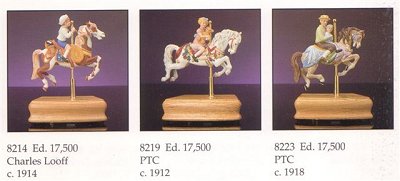 Larger porcelain pieces were presented in three formats:

(1) A dentzel rabbit with leather stirrups, a Herschell-Spillman Zebra with leather reigns, a Herschell-Spillman frog with leather stirrups, and an ornate Illions horse with leather reigns and stirrups, all on brass bases.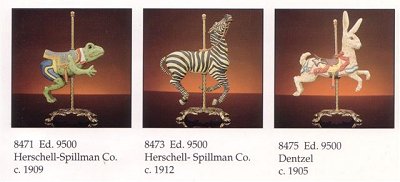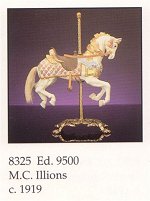 These were joined by a large Looff horse (with hair tail and leather reigns) with two riders and a large Parker horse (also with leather reigns) with two riders.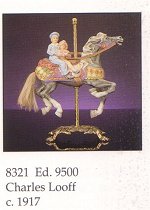 (2) These pieces were also issued on an oval wooden base: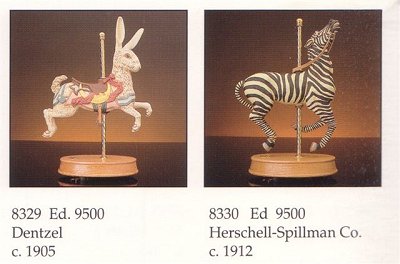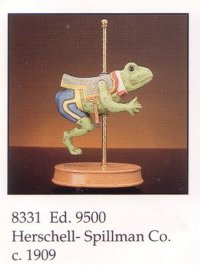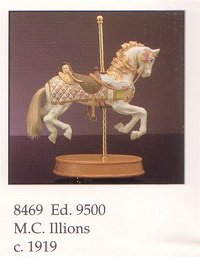 (3) They were also mounted on a larger musical wooden base with motion: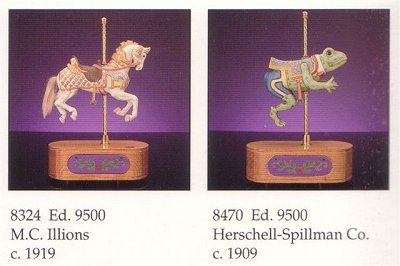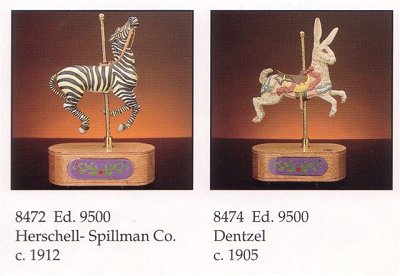 A large carousel in the style of M.C. Illions rounded out the collection, along with a rendition of the Illions white horse with leather reigns and stirrups that appeared in three other formats in the collection, this time placed in front of an ornate band organ.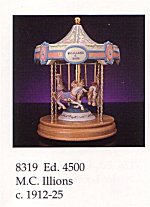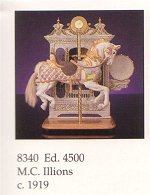 Next month we'll look at the "Third Edition" of 1989.

Dr. Floyd Moreland operates the Magical Carousel Shoppe AND the beautiful antique Dentzel carousel (also known as the Dr. Floyd Moreland Carousel) at Casino Pier in Seaside Heights, New Jersey. Visit his online shop at CarouselStores.com.