The Third Edition (1989) of Tobin Fraley's
American Carousel Collection
by Dr. Floyd Moreland - Magical Carousel Shoppe
The Third Edition came out at a time when the collector base in the world of miniature carousel art was beginning to show signs of slight decline.¹ In the First Edition (1987) just two years before, for example, the large porcelain pieces were produced in editions of 9,500 (e.g., items # 5978, 7128, 5980, 5979, 7129, 7130, 7131, and 7132). This number was perpetuated into the 1988 Second Edition with the frog, zebra, rabbit, and large horses. But the 1989 edition contained only three larger pieces, and they were produced in editions of 2,500: two Carmel horses (#9070 and #9911)), and an Illions horse with golden mane (#9911). These were mounted on a double horseshoe brass base, with inlaid glass stones. They also had leather stirrups and reigns made of a golden chain.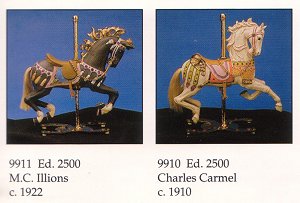 The rest of the 1989 collection consisted of a group of 6 smaller designs (presented in three different formats) in editions of 4,500 pieces and a group of 8 even smaller designs (presented in two different formats) in editions of 9,500 pieces each. This made for a total of 37 pieces in the collection, essentially inspired by 17 specific designs.

The grouping of 6 designs consisted of figures (two with riders) by Carmel, Looff, Muller, and PTC. The grouping was issued
(1) mounted on brass bases: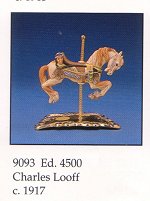 (2) mounted on wooden bases (with up and down motion) in front of various facades of band organs: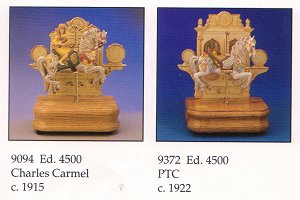 and (3) mounted on wooden bases with up and down motion: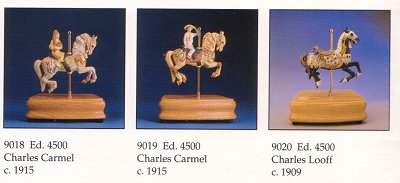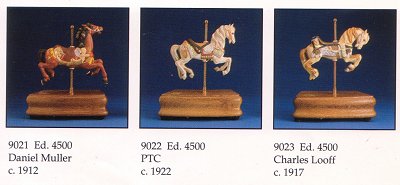 All of the figures in the smaller pieces (in editions of 9,500) were inspired by works of C.W. Parker (4 with riders). These came out
(1) mounted on brass bases: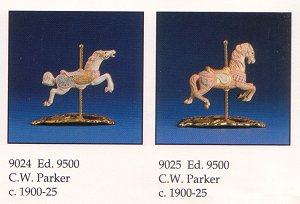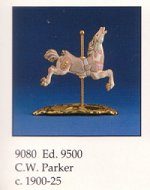 and (2) mounted on wooden bases with up and down motion




A major influx of artistic energy was to appear in the Fourth Edition of 1990, including two pieces that received nominations for the Collector Editions Magazine Award. We'll look at those in the next installment.

¹ It is important to bear in mind that Willitts and the Fraley Collections did not exclusively make up the carousel collectible market in the 1980s and early 1990s, although they played a dominant role. Many other collections were also thriving. PJ's of Newbern, Virginia, for example, manufactured a large line of carousel horses made of gemwood, a resin material that, when painted, had the look of wood. Like the Willitts porcelain pieces, the PJ animals were based on actual carvings. Their Park Collection was inspired by figures that were turning on carousels throughout the country. At Casino Pier in Seaside Heights, NJ, we commissioned the PJ company to produce the Casino Pier Collection, a limited edition series of miniature replicas of animals on our 1910 Dentzel/Looff carousel. Other carousels came up with similar programs. PJ's came out with a large number of horses and menagerie figures over the years as well as band organ facades, rounding board sections that would fit on the top of the pole of the miniature animals, and so on. Unlike the porcelain figures produced by other companies, the PJ pieces had the look and feel of actual animals one might see on a real carousel, and they were made in the United States!

Also at the same time miniatures were being produced by companies like Westland and Precious Art, very much in scale with the Willitts pieces and similar in diversity of design. A company called Design Quest came out with a very attractive collection (in the early 90s), but it lasted only a short time. And then there were the Hamilton Collection, pieces by the San Francisco Music Box Company, the Franklin Mint, Enesco, and considerable others who made their own contributions to a thriving market. The mid to late 1980s and early 1990s were in fact the peak of a wave of interest in miniature carousel collectibles and there was an abundance of products available to suit every taste.

Dr. Floyd Moreland operates the Magical Carousel Shoppe AND the beautiful antique Dentzel carousel (also known as the Dr. Floyd Moreland Carousel) at Casino Pier in Seaside Heights, New Jersey. Visit his online shop at CarouselStores.com.