1992 - The Sixth Edition
The Tobin Fraley Collection by Willitts Designs
by Dr. Floyd Moreland - Magical Carousel Shoppe
The "Sixth Edition" of 1992 was the swan song of the artistically diverse and intense series of limited edition "Willitts Designs" miniatures created by Tobin Fraley and inspired by the master artists of the American carousel. It consisted of only 14 pieces.

Following upon the "four seasons" motif that dominated the previous two editions, Fraley came upon a new approach with "The Four Elements-Earth, Air, Fire, and Water". In a brilliantly derivative way, he drew upon styles from the master carvers and recast their imagery into dynamic artistic expressions. The centerpiece of the collection was the four-horse carousel: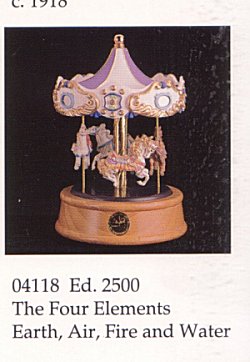 Four large horses, mounted on bases with the (now) familiar double horseshoe studded with jeweled stones, filled out the collection, in editions of 2500:



And an ornament, limited to production only in 1992, completed the theme:





The "Sixth Edition" was filled out with four additional sculptures, two inspired by Dentzel and two by PTC, issued on musical wooden bases and also on brass (non-musical) bases: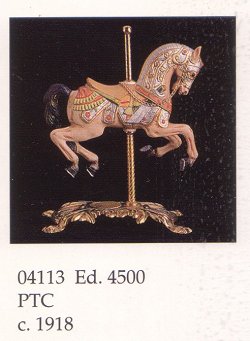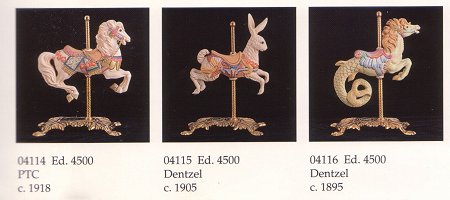 The two horses (PTC) were fitted with gold-tone chains for reins; the Dentzel rabbit echoed the larger rabbit that had gained popularity in the Second Edition of 1988, and the seahorse (Dentzel) introduced a figure that had not been included before.

Tobin Fraley pieces appeared for years afterwards, issued (for example) by Hallmark and Lefton. And they continue to appear as prized additions to the long line of collectible pieces distinguished by artistic vision and flare, inspired by the spirit of the American carousel. Fraley has taken his place in the line of artists who rekindled in us the spirit of the carousel. The amazing energy of those earlier years, however, had waned and was not to be repeated. Alas, general interest in the art of the carousel appears to have waned as well.

I put together this series as a result of numerous inquiries in our carousel shop about the early Fraley pieces and I hope that it will prove a useful tool for reference. The artistic energy that focused on American carousel art in miniature in the 1980s and 1990s not only provided delight and pleasure for collectors, but actually did much more. Since much of it was inspired by authentic carving styles of the great masters, it helped educate those of us who were willing to look at the memories of our youth in new ways while it opened our minds to a special phenomenon in the history of American folk art.

Dr. Floyd Moreland operates the Magical Carousel Shoppe AND the beautiful antique Dentzel carousel (also known as the Dr. Floyd Moreland Carousel) at Casino Pier in Seaside Heights, New Jersey. Visit his online shop at CarouselStores.com.